In front of an empty grandstand due to government restrictions imposed to combat the COVID-19 pandemic, a huge field of competitors and their crew members flocked to the Hamilton County Speedway driven by Spangler Automotive on Saturday night for the first race of the year at the historic half-mile clay oval.
And while spectators were forced to bypass the flavors and aromas of the racetrack and watch the action online at RacinDirt.TV, they were able to see incredible wheel-to-wheel racing while avoiding the chilly springtime air and two lengthy rain delays.
Summit USRA Weekly Racing Series action was packed with everything a fan could want, including a last-lap pass for the win in the USRA Modified main event.
First-time visitor Kollin Hibdon of Pahrump, Nevada, took the lead near the halfway mark of the 20-lap feature race and led all remaining laps except the last one.
With the white flag in their rearview mirror, 16-year-old Hibdon and second-place Lucas Schott of Chatfield, Minnesota, exited turn 2 with Schott pulling alongside as they raced down the back-stretch, eventually pulling away in the final set of turns and stealing the win.
Hibdon was impressive in his debut with a runner-up result while another Chatfield resident, Jacob Bleess, crossed the finish line third ahead of Alex Williamson of Rushford, Minnesota, and 21st-starting Jaxon Saathoff who made the long two from Beatrice, Nebraska, to compete where his father, Johnny 'The Jet' Saathoff won the Fall Jamboree nearly 20 years ago.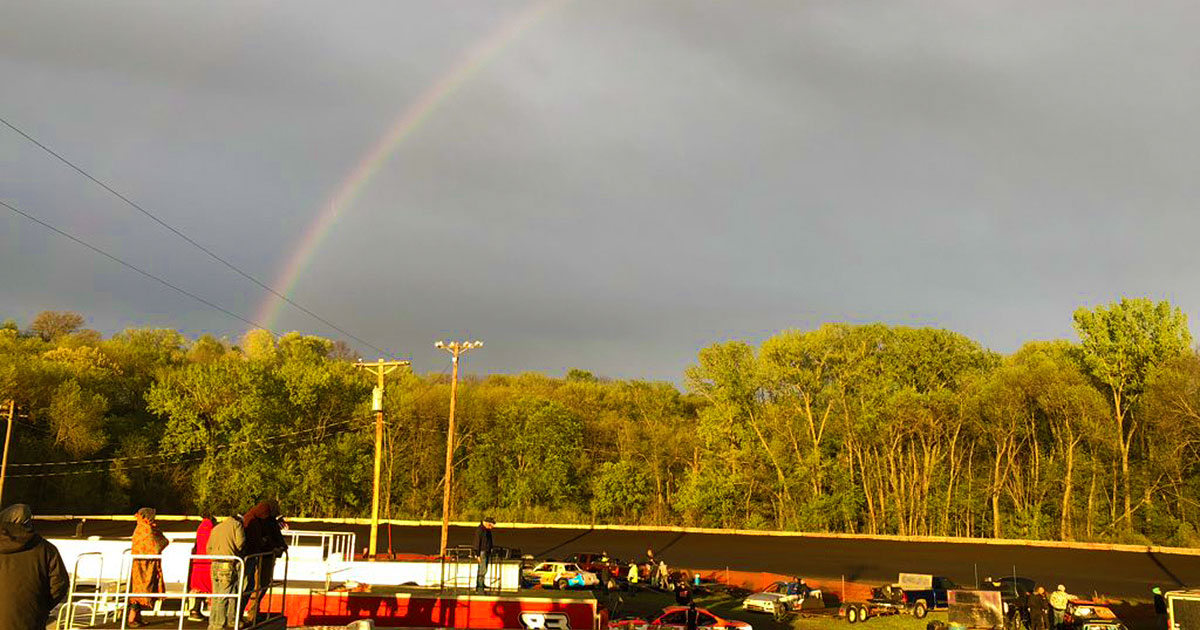 Racing will resume next Saturday, May 16. Competition and attendance guidelines will be announced this Tuesday following the briefing by Iowa's governor.
The Hamilton County Speedway driven by Spangler Automotive is located off US 20 at exit 140, then 1.2 miles north, then 0.5 mile east on Bank St., then 0.4 mile south on Bluff St. to the Hamilton County Fairgrounds in Webster City, Iowa. The physical address is 1200 Bluff St, Webster City, IA 50595.
For more information, call (515) 832-6000 or check out HamiltonCoSpeedway.com. You can also get social on Facebook and Twitter.
Opening in July 1910, the Hamilton County Speedway is the oldest speedway in the state of Iowa. In 1938, work began on the current location at the Hamilton County Fairgrounds. The semi-banked half-mile dirt track was completed in the spring of 1939, and the first races were held on the track in September of that year.
= = = = = = = = = = = = = = =
OFFICIAL RESULTS
United States Racing Association
Summit USRA Weekly Racing Series
Hamilton County Speedway, Webster City, Iowa
Saturday, May 9, 2020
Showing finishing position, starting position in parentheses, car number, driver and hometown.
USRA MODIFIEDS
Heat #1:
1. (2) 5D Devon Havlik, Iowa Falls, Iowa
2. (4) 15W Alex Williamson, Rushford, Minn.
3. (3) 23 Adam Kates, Tonganoxie, Kan.
4. (7) 6 Casey Skyberg, Rapid City, S.D.
5. (9) 82 Jake McBirnie, Boone, Iowa
6. (6) 2 Jerid Ratzke, Williams, Iowa
7. (5) 42 Paul Niznik, Medford, Wis.
8. (1) 77 Jeff Aikey, Cedar Falls, Iowa
9. (8) 30 Josh Ruby, Lakota, Iowa
Heat #2:
1. (4) 07 Cory Crapser, Chippewa Falls, Wis.
2. (1) 14M Brian Mahlstedt, Ionia, Iowa
3. (3) 23K Darwyn Karau, Kasson, Minn.
4. (2) 45H Jason Hickingbottom, Duncombe, Iowa
5. (5) 138 Jon Peed, Webster City, Iowa
6. (6) 7S Todd Stinehart, Waseca, Minn.
DNS – 15 Chris Loberg, Elma, Iowa
Heat #3:
1. (5) 69 Lucas Schott, Chatfield, Minn.
2. (7) 00J J.D. Auringer, Waterloo, Iowa
3. (2) 3F Cole Ferguson, Dexter, Iowa
4. (3) 73 Ryan Nelson, Madison, Minn.
5. (8) 41 Nate Hughes, Humboldt, Iowa
6. (6) 8W Kenny Wyman, Ames, Iowa
7. (4) 14E Chase Ellingson, Williams, Iowa
8. (1) 51 Blake Arndt, Brownsdale, Minn.
Heat #4:
1. (2) 29H Joe Horgdal, Kasson, Minn.
2. (4) 21 Jacob Bleess, Chatfield, Minn.
3. (1) 48K Kollin Hibdon, Pahrump, Nev.
4. (8) 71 Jeff James, Stanton, Iowa
5. (5) 57 Duke Erickson, Sioux Falls, S.D.
6. (7) 96 Jaxon Saathoff, Beatrice, Neb.
7. (6) 8X Scott Olson, Blairsburg, Iowa
8. (3) D6 Johnny Conley
"B" Feature:
1. (3) 96 Jaxon Saathoff, Beatrice, Neb.
2. (4) 42 Paul Niznik, Medford, Wis.
3. (6) 51 Blake Arndt, Brownsdale, Minn.
4. (5) 8X Scott Olson, Blairsburg, Iowa
5. (8) 30 Josh Ruby, Lakota, Iowa
6. (2) 7S Todd Stinehart, Waseca, Minn.
7. (1) 2 Jerid Ratzke, Williams, Iowa
8. (7) D6 Johnny Conley
DNS – 8W Kenny Wyman, Ames, Iowa
DNS – 15 Chris Loberg, Elma, Iowa
DNS – 14E Chase Ellingson, Williams, Iowa
DNS – 77 Jeff Aikey, Cedar Falls, Iowa
"A" Feature:
1. (10) 69 Lucas Schott, Chatfield, Minn.
2. (5) 48K Kollin Hibdon, Pahrump, Nev.
3. (12) 21 Jacob Bleess, Chatfield, Minn.
4. (9) 15W Alex Williamson, Rushford, Minn.
5. (21) 96 Jaxon Saathoff, Beatrice, Neb.
6. (22) 42 Paul Niznik, Medford, Wis.
7. (2) 3F Cole Ferguson, Dexter, Iowa
8. (13) 6 Casey Skyberg, Rapid City, S.D.
9. (7) 5D Devon Havlik, Iowa Falls, Iowa
10. (17) 82 Jake McBirnie, Boone, Iowa
11. (6) 14M Brian Mahlstedt, Ionia, Iowa
12. (14) 45H Jason Hickingbottom, Duncombe, Iowa
13. (1) 23 Adam Kates, Tonganoxie, Kan.
14. (16) 71 Jeff James, Stanton, Iowa
15. (20) 57 Duke Erickson, Sioux Falls, S.D.
16. (24) 8X Scott Olson, Blairsburg, Iowa
17. (15) 73 Ryan Nelson, Madison, Minn.
18. (3) 07 Cory Crapser, Chippewa Falls, Wis.
19. (4) 29H Joe Horgdal, Kasson, Minn.
20. (23) 51 Blake Arndt, Brownsdale, Minn.
21. (8) 23K Darwyn Karau, Kasson, Minn.
22. (19) 41 Nate Hughes, Humboldt, Iowa
23. (18) 138 Jon Peed, Webster City, Iowa
24. (11) 00J J.D. Auringer, Waterloo, Iowa